From practical wristbands to ultra-sleek smartwatches, tracking your fitness level has never been easier. Whether you're interested in basic functions like counting steps, distance, and calories burned, or you want even more utility with smartphone integration, there are plenty of options to suit your lifestyle.
As a fitness beginner, it can be hard to choose which tech gadget is right for you. You have to think about style, function, and cost. Fortunately, here's a guide to help you through the shopping process.
Wristband or Smartwatch?
 You'll first want to decide what type of fitness tracker you're looking for. If you prefer a simple yet functional wristband, T-Mobile offers the FitBit Charge 2.
If you'd rather have a smartwatch that delivers additional perks such as calling, text messaging, and access to emails, you can opt for the ZTE Quartz Android Wear 2.0 or Samsung Gear S3. All three of these options offer their own unique benefits and comfortable bands, and you can find them in different colors, too.
Additionally, while the FitBit Charge 2 and ZTE Quartz feature an OLED (Organic Light Emitting Diodes) display, the Samsung Gear S3 offers a super-efficient AMOLED (Active Matrix Organic Light Emitting Diodes) display for higher definition.
What Do You Need It For?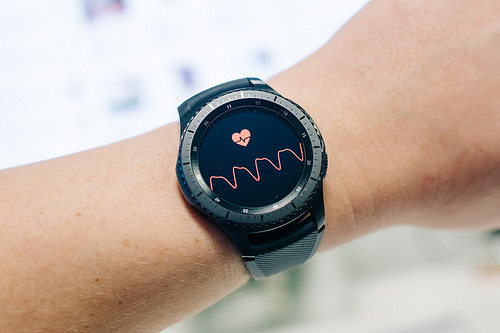 Image via Flickr by Janitors
Even if you're a fitness beginner, you should still want a device that can handle all of your day-to-day activities. With the FitBit Charge 2, you'll benefit from handy reminders and notifications, on-screen fitness reports, a heart rate monitor, and even helpful breathing techniques.
If you opt for the ZTE Quartz Android Wear 2.0 smartwatch, you can download Google Fit to log and track your workouts. You can also access extra features such as smartphone integration and Bluetooth and Wi-Fi connectivity.
With the high-tech Samsung Gear S3 from a carrier like T-Mobile, you can utilize built-in apps S Health smart monitoring and download fitness apps like Endomondo and MyFitnessPal from the Galaxy Apps store. Plus, you can track your location via a built-in GPS; answer calls, texts, and emails; connect to a 4G LTE network, use voice commands, and utilize Samsung Pay for mobile payments.
For even more functionality, the Samsung Gear S3 is also dustproof and partly water-resistant, which is beneficial to those planning to exercise outdoors.
Whether you're a casual or serious athlete, there are plenty of wearable tech gadgets available on the market to help you stay on track with your fitness goals.
Do You Have a Budget?
If you're new to fitness trackers, you don't necessarily have to dish out hundreds of dollars for a quality device; there are plenty of great gadgets at all price points. The FitBit Charge 2 is a great combination of utility and affordability, with a retail price of only $150.
If you're looking for something that doesn't just stop at fitness, you can upgrade to the $192 ZTE Quartz Android Wear 2.0 smartwatch. With the Samsung Gear S3's impressive advanced features and stylish appearance, it's no surprise that this high-tech gear comes in at $400.
If you plan on sticking to a budget, you can still find a top-notch device for a reasonable price. However, If money isn't one of your top concerns, you'll likely appreciate the many additional perks you can find with a higher-end gadget. Plus, with T-Mobile's affordable payment plans, you won't have to worry about putting out a large amount of money upfront.
How Good Is the Battery Life?
How long your gadget will last between charges is a very important factor to consider. After all, you probably don't want to end up charging your device every other day. Also, what happens if you forget to charge it before you leave the house? You'll likely have to leave it behind or risk running out of juice during your workout session. Neither of those options seems acceptable and could cause you to get out of the habit of wearing your device regularly.
The longer your device can stay powered on without needing a single charge, the more useful it will be to you. With the ZTE Quartz Android Wear 2.0, you can expect an impressive battery life of up to two days. With the Samsung Gear S3, that number bumps up to a whopping four days. And with a simple wristband like the FitBit Charge 2, you can expect all the way up to five days of power. Keep in mind, though, that the battery life largely depends on how often you use your device and a number of apps you have running.
Are you new to the world of fitness and searching for the ideal tech companion to go along with your daily routine? If so, keep this useful guide in mind to help you find the right wearable tech gadget for all your fitness needs.
AUTHOR: 
Samantha Salazar is a copywriter and editor for 

CopyPress

, a content marketing agency. She has a passion for writing and learning about new and interesting topics. When she's not writing, you'll find her browsing social media, reading fiction novels, and traveling around the world. You can find her on LinkedIn.