[sc:headershare]
No matter how often you wake up with those dreamy eyes, you don't like to waste a minute to pack your bag and head to the gym. And, after you're done with your workout, all tired and sweaty, what does your body crave for next?
A healthy and hearty breakfast of course.
Now, we all know how important the morning meal is for each one of us, which is why I wont let you compromise on some average and everyday meal.
So, I take this opportunity to serve you with a purely nutritious and delectable breakfast menu that will keep your spirits high for the rest of the day.
I especially listed out three unique recipes that make an excellent fit on the breakfast table.
The first one of them is a unique chilled watermelon soup, light as well as hearty on the stomach. The awesome blend of watermelon, cucumber and dill makes it a perfect summer chill. Also, made of whole fresh foods such as tomatoes, red onions and cucumbers, it is an ideal fit for breakfast.
Nutrition facts: Tomatoes, cucumbers, red onions are all cholesterol free food and rich in anti-oxidants, vitamin A and C. Plus, its falls low in the calorie chart.
This breakfast soup will also fulfill your daily need of potassium which contributes to a healthy heart, kidney function, and muscular strength.
Tips: If you are fat conscious, remove that slice of feta cheese. Also, you can also replace normal onions if you cannot find red ones. I tried this recipe at home, the food processor makes it so quick and easy.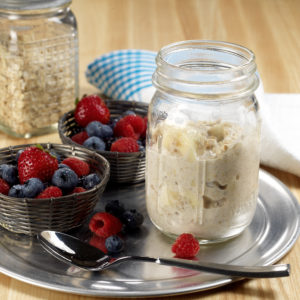 Many of you might make a face at the very mention of oats, thinking what could be possibly delicious about them. Well, this recipe can add amazing flavor to your mouth when you add banana and yogurt and combine it with your favorite berries!
A perfect recipe, in case you are having hectic mornings and can't really find enough time to cook yourself a proper meal. Also, for those who hit the gym every morning, this breakfast will help you recover your strength because of the milk, banana and yogurt. It will keep you stay fuller for a longer time.
Nutrition Facts: Specific nutrition related facts are already mentioned in the recipe link.
Still, just so you know, this recipe is packed with protein, fiber and minerals like calcium, potassium and magnesium that add to muscle and bone strength. And the berries are an excellent complement as they are rich in antioxidants they keep your skin disease free.
Tips:Make sure that you add skimmed milk to this one to cut off the extra calories. Also, do not add too much milk, or else you might lose the sticky touch.
Another quickie on the breakfast menu. Mint chocolate chip shake makes you go yum yum with the very first sip. Made of almond milk, it is an excellent choice for those who are lactose intolerant or believe that dairy is not their cup of tea.
Just like the chilled soup, you simply need a blender to mix it all. The buttery taste of avocado makes it a creamy delight and the smell of the fresh mint leaves you completely refreshed.
Nutrition Facts: Almond milk is rich in calcium saving you from decayed teeth and weak bone health. Raw cacao is full of antioxidants, which decreases your risk of cancer and spinach offers you the iron boost.
Overall, mint chocolate chip shake is high in nutrition. A big glass of this shake will wake you up and keep your energy levels high until noon.
Tips: You better not mess with this one as it tastes perfect this way. If you prefer dairy, then you can replace almond milk with skimmed dairy milk.
So, its time that you add a quick flavor to your morning meals.
Stay tuned until next week so as to explore more colors and flavors in an entirely new line of brunch recipes.
Until then, keep your mornings cool and fun!
If you are a foodie, you must check this out: Top 20 Food Bloggers Who Will Ignite Your Taste Buds