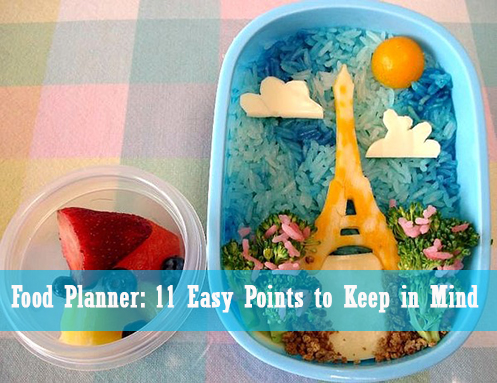 Eating healthy can be a bliss for a healthy life. Keeping your daily diet up to the required mark with all essential nutrients is what every healthy being yearns for.
To make your meal a delicious and healthy one we bring you these 11 points you should keep in mind while planing your food planner. We dare you to follow these 11 tips while planning out your meal.
WEIGH UP THE WEEK
It's important to get a good balance of food[1] every day, but it can be confusing and easy to lose the track. To check, think about what you eat and drink over the course of a week -jot it down if it helps. If it balances out overall, even if you have the odd bad day, you're on the right track.
THREE OF YOUR FIVE A DAY
Most people know they should eat five portion of fruit and vegetables a day[2], but did you know that three of these ideally should be vegetables because they are lower in sugar and higher in fibrous content?
PUT IN WHAT YOU GIVE OUT
Start thinking about your balance or calories in and calories out. So if you've had a really active day you might need a larger dose of carbohydrates to refuel your body's  lost energy, but if you've been relatively inactive you could probably make do with a smaller portion.
EAT ONE CARB PER MEAL
The best way to moderate your carbohydrate input is to limit it to one portion per meal. This Would be equivalent to 1- 2 slices of wholemeal bread, a cup of cereal, rice or oats, or a baked sweet or regular potato.
GO LIGHT ON THE CARBS
Watch the amount of starchy carbohydrates you're serving at each meal. Carb-heavy meals tend to be calorie-heavy meals[3]. Don't be tempted to base an entire meal around noodles, rice or bread even though it's sometimes easier. Replace with more vegetables or a salad instead[4].
BE AN EARLY RISER
Get up five minutes earlier in the morning and use the time to sit down and plan your daily intake of food and drink. Knowing ahead of time what you're going to eat will make you less likely to binge and more likely to eat in moderation[5]. If you're eating to weekly plans, use this morning time to revise your day's diet.
BAKE A CAKE
Instead of buying cakes or biscuits in the supermarket, make your own at home and substitute wholemeal flour for the usual white variety – it will make your homemade cakes nutritious as well as tasty.
FRUIT IN THE FRIDGE
Try fresh fruit salad for dessert instead of calorie packed pudding. To make it easier, make a large bowl at the beginning of the week and keep it in your fridge so it's easy to dip into every night.
STICK TO A SERVING
Its difficult to know what's meant by one serving, especially if you're trying to count calories. Generally, the recommended serving of cooked meat is 85 gm, which is roughly the size of a pack of cards.
JUST SAY NO
Did you know what a serving of fruit or vegetable is? In general, it's about a handful of most types, or a medium apple, pear or orange. Bear in mind that for vegetables the amount are measured cooked rather than raw. This is really important for shrinking foods like spinach.
DO IT SENSIBLY
Always remember that effective weight loss programs should include healthy eating plans that reduce calories but do not rue out specific foods or food groups, together with physical activity. This should give a slow and steady weight loss of 0.5-1.5 kg per week.
GROW YOUR OWN
if you're tired of not being able to find cheap organic vegetables why not grow your own? Vegetable patches anti allotments are becoming increasingly popular and they're a great way to ensure good quality produce. If you're short or space, tomatoes, lettuce and fresh herbs also grow well on window sills and in window boxes.
We know you are motivated enough to try these these tips. How about having a look at these 7 healthy habits that can lead you to a better life style. I am sure you must not have read about them.
References:

[1] Engelfriet P, Hoekstra J, Hoogenveen R, Büchner F, van Rossum C, Verschuren M. Food and vessels: the importance of a healthy diet to prevent cardiovascular disease. Eur J Cardiovasc Prev Rehabil. 2010 Feb;17(1):50-5. doi: 10.1097/HJR.0b013e32832f3a76.

[2] Ashfield-Watt PA, Welch AA, Day NE, Bingham SA. Is 'five-a-day' an effective way of increasing fruit and vegetable intakes?. Public Health Nutr. 2004 Apr;7(2):257-61.

[3] Berg JM, Tymoczko JL, Stryer L. Biochemistry. 5th edition. New York: W H Freeman; 2002.

[4] Jennifer Di Noia, Isobel R. Contento and Steven P. SchinkeaNutr. Fat Avoidance and Replacement Behaviors Predict Low-Fat Intake Among Urban, African American Adolescents. Res. 2008; 28(6): 358–363. doi: 10.1016/j.nutres.2008.03.005

[5] Ruth H. Striegel-Moore, Francine Rosselli, Nancy Perrin, Lynn DeBar, G. Terence Wilson, Alexis May and Helena C. Kraemer. Gender Difference in the Prevalence of Eating Disorder Symptoms. Published in final edited form as: Int J Eat Disord. 2009 July; 42(5): 471–474. doi: 10.1002/eat.20625.
[Photo credit: Sakurako Kitsa / Foter / CC BY-NC-ND]