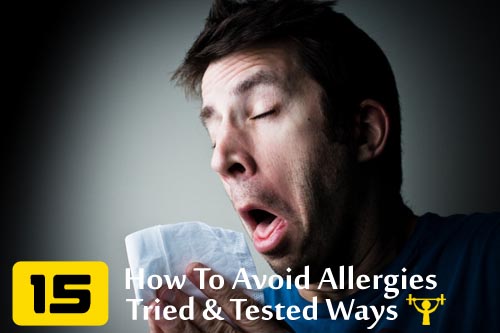 Allergies can make your life miserable. They come in the way of whatever you wish to do from spoiling your rest at night to doing your routine tasks well. It may not be easy to avoid most allergens but you can avoid triggers that cause them which is by far the best defense against allergies. Read further to find out How To Avoid Allergies Using The 15 Tried & Tested Ways.
SMOKE GETS IN YOUR EYES
Keep rooms well ventilated. Fumes that hang in the air, such as those from fresh paint, tar fumes, air pollution, insect sprays and tobacco smoke, can all aggravate allergic symptoms by irritating the sensitive mucous membranes in your eyes, nose and mouth.
STAY IN TO DRY OUT
To avoid wind-borne pollen and grass seeds coming into contact with you, sticking to your clothes and causing allergic reactions, keep dry clothes and bedding inside instead of hanging them out on a clothesline.
BRING BACK BATH-TIME
When was the last you had a bath before bed? Washing your skin and hair in the evening rather than in the morning has been shown to reduce allergic reactions overnight by getting rid of allergens in hair and on skin.
HUNT FOR HIDDEN DAIRY
If milk doesn't agree with you and makes you sick, you need to be aware of products that contain hidden sources of some of the allergens it contains. Watch out for casein, sodium caseinate, lactoglobulin and nougat on ingredients labels.
IMAGINE YOURSELF SNEEZE-FREE
Studies have shown that, far from being quackery, taking some time out every day to think away your allergy could reap benefits. Take ten minutes in a quiet spot and create a mental image of yourself without your allergy. You'll find that symptoms could begin to lessen after a few days.
A SWEET HEALER
The healing properties of honey[1] are thought to flow from its high proportions of pollen and plant compounds, producing a natural immunity in the body. Bee pollen, royal jelly, honeycomb and unfiltered honey are all believed to help.
BREATHE NEW LIFE INTO YOUR THROAT
Mix up an inhalation mixture with hot water and a drop each of lavender, eucalyptus and camomile essential oils to soothe breathing and reduce swelling and inflammation of the nose and throat. To trap steam, cover your head with a towel and bend over to inhale.
GO FOR GARLIC
Garlic is thought to boost immunity[2], which could help regulate the body's allergic reaction to pollen grains.
C FOR YOURSELF
Vitamin C is definitely the wonder vitamin when it comes to your immune system[3]. Make sure you get a generous daily dose of fresh fruit and vegetables or take a supplement to keep your body fit to fight off infections.
GET STEAMY TO CLEAR YOUR HEAD
Coughing during the night can be eased by hanging a wet towel on or near a radiator to increase humidity in the room overnight, preventing the lungs and throat from drying out and decreasing the chances of damage or infection.
GIVE IT SOME ELBOW GREASE
Some of the worst allergy irritants, such as formaldehyde, phenol and ammonia, are found in cleaning fluids. Think about using alternatives, such as vinegar, soda crystals, lemon juice, water and a bit of hard work.
DON'T STAND THE HEAT
A hot, humid house is a breeding ground for mould, mildew and dust mites. Turn down central heating to about 21°C (70°F) and if your house is humid, think about investing in an air-conditioning system or dehumidifier to clear allergens.
TREAT YOURSELF TO BREAKFAST IN BED
Habitual sneezing and coughing in the morning are often due to a sensitivity of the body to the cold, so giving your body some time to get used to the temperature change first thing by eating a warm breakfast or drink in bed could help prevent these irritants.
SOOTHE YOUR STRESS
Emotional stress can worsen responses to allergens, so relaxation techniques may help relieve the symptoms of allergic reactions, especially with breathing problems.
GET SALTY FOR SINUSES
If your sinuses are causing problems, you might want to try the 3000-year-old yogic practice of sniffing saltwater, which can help fight and prevent sinus infections. Ask a doctor or nurse for advice.
Did you like this article? Then pay us with a kind tweet :). Also, checkout our 6 part series on how to understand your body's messages.
References:

[1] Helbling A, Peter C, Berchtold E, Bogdanov S, Müller U. 

Allergy to honey: relation to pollen and honey bee allergy

. Allergy. 1992 Feb;47(1):41-9.

[2] Butt MS, Sultan MT, Butt MS, Iqbal J. 

Garlic: nature's protection against physiological threats

. Crit Rev Food Sci Nutr. 2009 Jun;49(6):538-51. doi: 10.1080/10408390802145344.

[3] Ströhle A, Hahn A. 

Vitamin C and immune function

. Med Monatsschr Pharm. 2009 Feb;32(2):49-54; quiz 55-6. Article in German.