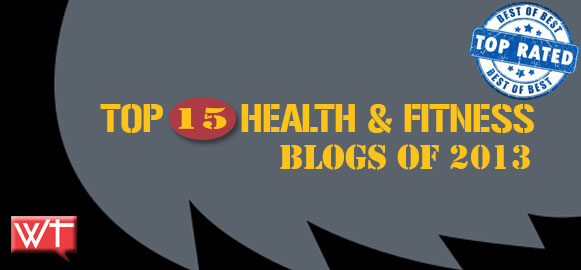 As 2014 is approaching, so is the intensity for making a health-centric new year resolution list. So, we decided to ease your pain by providing you a list of "Best of the best" health and fitness blogs of 2013.
These, in no particular order, are the best (apart from us of course!) you can find over the web to subscribe as per your needs and keep you company on your journey of a fit lifestyle.
Author: Steve Kamb
Core focus: Overall personality
Why it made the list: Great Lego illustrations and awesome advice
Audience: Regular people (desk jockey, nerds, average Joes)
The blog comes out with a tagline, 'Level up your life, every single day', which is sufficient enough to boost consistency in you. The author is obsessed with all kinds of superheroes. He uses their struggles to learn trivialities that make them super. Though Steve is AAAI certified, he refrains from calling himself a fitness expert.
Author: NYTimes.com
Core focus: News on overall health
Why it made the list: Research backed informative articles
Audience: Advanced health enthusiast
All contributors to this are blog are experts in their fields and dedicated to dispense latest research information on all health aspects. Though for advanced health enthusiasts due to frequent usage of medical terms, the articles can be well understood by everyone.
Author: Dr. Andrew Weil, MD
Core focus: Integrative Medicine tips
Why it made the list: Precise & crisp content delivery
Audience: Natural health enthusiasts
The blog author is an expert in medicine and has published many books on mental and general health. Through his blog, Dr.Weil aims to inform his readers with latest information on health in easily digestible format. You may find great sections like daily tips for optimal health too, as he believes health is an everyday phenomenon.
Author: Angela Liddon
Core focus: Vegan recipes
Why it made the list: Easy to incorporate vegan diet tips and pictures that can make anyone drool
Audience: Vegans aficionados
The blog is run by an award winning vegan recipe developer and bakery owner and is inspired by her personal struggle with an eating disorder. In her posts, she talks about how vegan made her love food all over again. Highly recommended for the vegan population.
Author: Tina
Core Focus: Healthy eating & exercising
Why it made the list: Fun relatable posts and great pictures
Audience: Regular readers
Carrots 'n cake is run by a rather rough and tough woman who is a Level 1 CrossFit trainer and NASM personal trainer too. She loves to jog and run marathons equally. In her blog, she writes about her tryst with Yoga and CrossFit for maintaining a healthy body and her passion of food and writing. Her high quality articles have been published in many health journals too.
Author: Mike O'Donnell
Core Focus: Intermittent fasting
Why it made the list: Promotes simplest ways to maintain health
Audience: Regular readers/beginners
Mike on his blog about Intermittent Fasting, promotes simple 2-meal philosophy for maintaining a good health. On a regular basis, he gives out great posts on staying motivated and easy exercise techniques for beginners and enthusiasts too.
Author: Goes by the pseudo-name, Sodium Girl
Core Focus: Sodium/salt free diet
Why it made the list: Best recipes on web
Audience: Readers with blood pressure and other medical issues
Inspired by her battle of Lupus, an auto-immune disease that led to renal failure. She successfully overcame her disease and is now off of kidney replacement list. Her posts present the so called bland sodium free recipe in a new interesting and tasty avatar.
Author: Carol Kicinski
Core Focus: Gluten free diet
Why it made the list: Plethora of recipes, all gluten and effort free
Audience: Gluten intolerant bunch
This awesome blog is run and maintained by an award winning recipe developer, television chef, founder and editor-in-chief of magazine 'Simply Gluten Free'. Her approach is quite innovative and exciting as she re-invents old recipes in a totally gluten free way.
Author: Robb Wolf
Core Focus: Paleo Diet
Why it made the list: Unique mix of Paleo diet recipes and tips from guests
Audience: Paleolithic/Caveman diet aficionados
A superb blog coming from a former biochemist researcher, world's leading expert on paleolithic nutrition and author of NY Times best selling 'The Paleo Solution – The Original Human Diet'. He is also a powerlifting champion and amateur kick boxer, shelling out tips and advice for beginners and enthusiasts.
Author: Amy, Natalie and Jacky – Moms to picky eaters
Core Focus: Healthy diet for Kids
Why it made the list: Absolutely innovative techniques for a healthy lunch box
Audience: Parents to kids with opposite food preferences
The writers of this blog, three moms are those who in one life have witnessed dinner table fights and are certified trainers/dietitians in another. Their strategy to raising healthy kids lies in frequent family heritage recipe make-overs. Apart from kids and toddler nutrition they also advise women on pregnancy eating.
Author: Libby Stigaard Ilson
Core Focus: Recipes for allergic kids
Why it made the list: Best recipes on the web for allergic bellies
Audience: Parents to allergic kids
We all know, cooking for an allergic kid is one hell of a task, not to forget his cravings for trying stuff out. This blog gives out ultimate recipes on a fun and nutritious diet for kids allergic to nuts, dairy, eggs, shell fish and red meat.
Author: Monica Olivas
Core Focus: Running
Why it made the list: Unique insights on runners
Audience: Runners
The blog author holds a philosophy of intuitive eating for running and shedding pounds. She is a certified personal trainer and loves marathons. Through her regular articles, she shells out diet tips for runners, and how to cope with a bad race or pressure before a marathon.
Author: John Romaniello
Core Focus: Strength training
Why it made the list: Best content on the topic with tongue-in-cheek delivery
Audience: Strength trainers – Beginners to coaches
Fitness expert at healthguru.com and personal trainer to many, Roman in his 8th grade used to be a chubby nerd. In his posts, he writes about tv, history, superheroes, pop-culture, but all in terms of strength training and sports. A must follow for strength trainers.
Author: Brian
Core Focus: Yoga
Why it made the list: Snippets from life of a yogi
Audience: Beginners and Yoga enthusiasts
The blog features light entertaining content on life of a yogi, the various mental and physical struggles involved and journey of complete personal transformation. A highly recommended source for beginners and yogis.
Author: Leo Babauta
Core Focus: Mental health
Why it made the list: Inspirational content and clean interface exuding zen from everywhere
Audience: Everyone
Great motivational inputs from a regular guy writing about his journey of quitting smoking, taking up running, fathering kids, becoming organized, penning a novel, turning vegan and taking control of his finances. And amid all chaos, how he maintained his sanity and kept walking.
That's our take on the best health and fitness blogs in the industry for 2013. Which one is your favourite? Do we feature in your list? If yes, let us know in the comments below 🙂