You might have obtained that six pack ab with all the hardcore body strengthening workouts while training in the gym.
Don't you feel proud seeing yourself in the mirror and witnessing all your hard work paying off.
Don't you just wish this lasts forever.Well it would if you keep up with your workouts and if you keep the right diet.
You must think " I do eat the right foods." But believe me when I say, sometimes the wrong nutrition causes those love handles, that you had worked so hard to get rid of, emerge.You need not take it as something to worry about because if you have been doing it wrong then here's how you can correct it.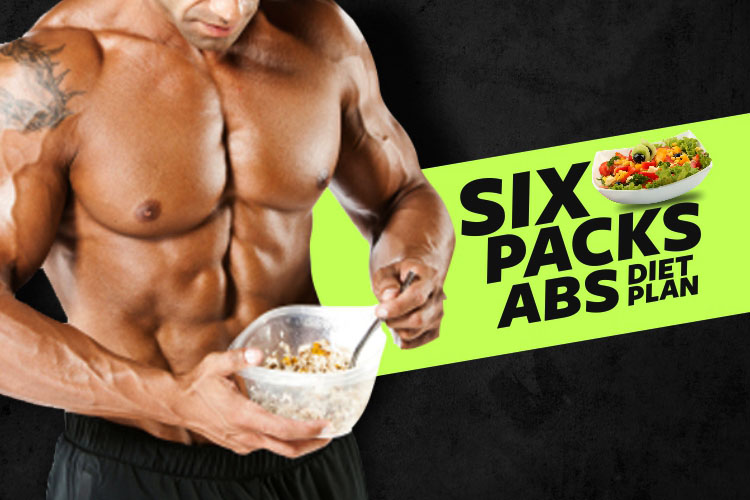 Eat after every 2-3 hours
Wondering what I am talking about? I am talking about having miniature meals after every 2- 3 hours in a day. This can be in the form of meal-replacement shakes or protein bars or they can follow the diet given in the table below.
Studies show that a typical person in the United States eats only 2.5 meals a day. He usually consumes a skimpy breakfast, followed by a large lunch and an even larger dinner. And you still wonder where you got those love handles from?
The male body requires approximately 1800 calories whereas the female body needs about 1500 calories for the perfect lean and muscular body that we all crave. Miniature meals help our hormones to keep a check on the fat storage in our body. The only thing we need to keep in mind is that the meals have to be taken within the interval of 2-3 hours.
The Meal Plan
Here is the Six Pack abs diet plan we have been talking about to help you in maintaining your 'right' diet as you work out right. This is just the right thing for both men and women working out to build those muscles and yet have a lean and mean look.
Meal Time
Foods suggested
Caloric Content
Breakfast

1 cup (250g) nonfat cottage cheese
3/4 cup orange juice (Noncaloric beverage)
1 plain, toasted, refrigerated, and pre- sliced bagel

350 calories
Midmorning Snack

A scoop of any meal replacement mixed with 6 ounces of water.
A medium sized orange, apple, or banana.

180 calories
Lunch
Salad which consists:

Leafy greens (lettuce, spinach) – any amount
2 cups (160g) chopped mixed vegetables (carrots, peppers, tomato)
6 ounces (170g) grilled chicken breast
½ cup (150g) cooked white beans
2 tablespoons (30g) reduced-calorie salad dressing
1 tangerine

350 calories
Afternoon Snack

1 ounce (30g) soy nuts or protein energy bar
Carrot and celery sticks or a medium sized apple, orange, banana, or an ounce of raisins

320 Calories
Dinner

Any type of non-alcoholic or non- caloric beverage.
8 ounces (200g) grilled salmon with lemon
2 cups (160g) steamed green beans with garlic
½ cup (150g) cooked brown rice
large leafy green salad – any amount
2 Tablespoons (30g) reduced calorie salad dressing

400 calories
Evening Snack

A scoop of any meal replacement mixed with 6 ounces of water.
A medium sized orange, apple, or banana.

180 calories
Precautions
Now you do have this guide to the perfect 1800- calorie plan. However, remember you need to tell your doctor or trainer before you start. A thorough body checkup is essential prior to starting out. The same is told to you before you start to work out isn't it?
This diet plan is especially not for children and teenagers, people with a heart condition, or even those who suffer from kidney problems, liver problems, arthritis, cancer, and diabetics.
So workout safe and plan your diet safely. All we want is a healthy, fitter you. Take care.
Do not forget to discuss your views with us. We are always eager to hear from you. 🙂
Similar Post  Must Have Diet Books For Weight Loss
Last Updated: Aug 15th, 2014
Next Scheduled Update: Oct 15th, 2014