How well have we known India to be the highlight for sports activities in the world? Very little if you ask me. But the trend is not the same today as it was 3-4 years ago when all you could hear an Indian citizen relate to in terms of sports was
"Cricket". 
A glimpse into the recent
Glasgow Commonwealth Games 2014
, and we see 15 gold, 30 silver and 19 bronze medals honoring India's name. India is now more active in sports, be it
hockey, football, weightlifting, gymnastics
or
kabaddi
.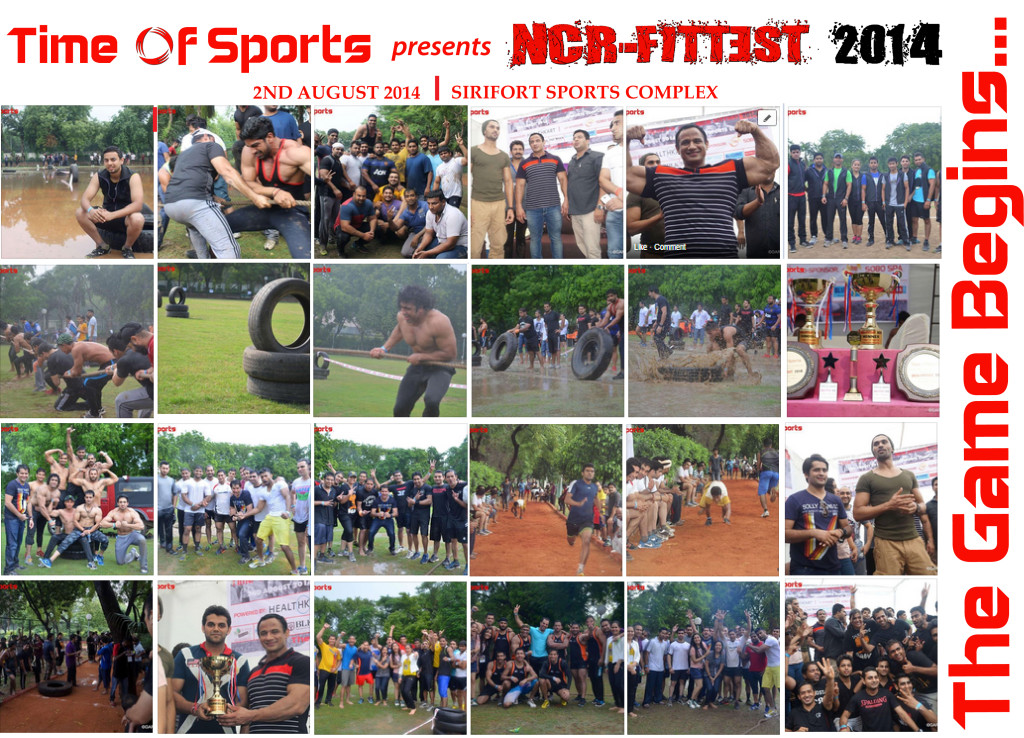 Delhi has never been known for its enthusiasm in any sport in the past. However, the city refuses to lack behind in this arena and "
Time of Sports
," a sports event management company based in Delhi prove just that.Delhi witnessed such an event which was the first of its kind,
Extreme Sports
Event, "
NCR- Fittest 2014
,"on August 2nd where all the top gyms inDelhi-NCRwere invited for participation. In totality, 250 fitness freaks from top gyms of Delhi- NCR came together for 1 exciting day of sports.The event comprised of teams of 12 members each and 4 Sports accompanied with live music. The bonus point for the event winning team were the prizes which were worth Rs 2.5 lakhs!
It was sponsored by HealthKart, Sobo Spa, Aspen Adventures, Midas Care, BLK Super Speciality Hospital, Bluzone, Tatonka, Hi -tec, and Workout Trends.
Conversation with Time of Sports
Workout Trends: What was the first sports event that Time of Sports organized and what was its theme?
Time of Sports: The first Sports Event by Time of Sports was Foot-Letics 2014, which was held on the 1st and 2nd of March at Thyagraj Stadium,  New Delhi. The Showstopper Football Match between Delhi University's Women's Football Team and players of all participating Corporate Teams created history for Foot-Letics 2014. This was the event that has set a benchmark and introduced the concept of Inter Corporate Connect by promoting sports.
Workout Trends: What was the initial thought that led to organizing NCR-Fittest 2014?
Time of Sports: Time of Sports envisages to give a platform for anyone who has the desire to play sports. Age, sex, occupation is no bar. We realized that the Fitness Freaks who spend a lot of time and energy in the gyms never get any platform to showcase their efforts. This triggered the Birth of the Idea to Launch NCR-Fittest 2014.
Workout Trends: What type of an event would you call NCR-Fittest 2014 and what the eligibility criterion  was for participation in this event?
Time of Sports: NCR-Fittest 2014 is an Extreme Sports Event that Tested the Endurance, Strength and Stamina of the Teams. The participants were Trainers and Members of Top Gyms of Delhi-NCR.
Workout Trends: What all the sports activities were held in the event?
Time of Sports: Tug of War, Tyre Flipping, Burden Run and Circuit Run in the watered Arena and under heavy rainfall were enjoyed and played with complete sportsman spirit by all Teams for NCR- Fittest 2014.
Workout Trends: What were the awards given out at NCR- Fittest 2014
Time of Sports: 

Healthkart Most Stylish Team Award : Elite Fitness Gym & Spa.
Fair Play Team Award – 3Fs: Fitness Freaks Forever.
Most Punctual Team Award – Fitness Freak Gym, Gurgaon.
Most Disciplined Team Award– 360 Degree Fitness Gym, Pitampura.
Special Mention Award – – DRONACHARYA – THE GYM.
Krish Fitness, South Delhi, bagged the gold and emerged as the winning team of the event while the runners-up title was bagged by the 360 Degree Fitness Gym, Pitampura.
NCR-Fittest 2014 being the first of its kind now has all participants and audiences eagerly waiting for the "next innovative event" by Time of Sports.
The games might have ended but the challenge has just begun!
For more information about NCR- Fittest 2014 and photographs of the events you can follow their Facebook page here or visit Time of Sports' website here.