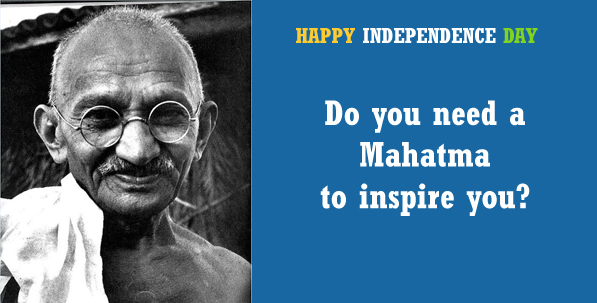 Independence Day is a national holiday in India which marks India's Independence from the British Rule on 15th August 1947. The freedom movement in India is largely known for concepts of nonviolent resistance and civil disobedience led by the Man who is celebrated as the Father of the Nation, Mohandas Karamchand Gandhi, better known as Mahatma Gandhi.
It was not the power of a man that inspired a nation to believe in themselves but the power of his ideas. Ideas have the power to bring a revolution. Ideas have the power to change lives. Do you need a Mahatma to inspire you? Do you need an Idea to inspire?
We leave you with 10 ideas of the Mahatma that still continue to inspire the lives of many people in India and around the world. Happy Independence Day from the Healthse Team.
1. ON LIFE
"My life is my message."
2. ON TRUTH
"An error does not become truth by reason of multiplied propagation, nor does truth become error because nobody sees it. Truth stands, even if there be no public support. It is self sustained."
3. ON LIBERTY
"I'm a lover of my own liberty, and so I would do nothing to restrict yours."
4. ON FORGIVENESS
"The weak can never forgive. Forgiveness is the attribute of the strong."
5. ON WINNING
"First they ignore you, then they laugh at you, then they fight you, then you win."

6. ON BEING THE CHANGE
"You must be the change you wish to see in the world."
7. ON THE HIGHER COURT
"There is a higher court than courts of justice and that is the court of conscience. It supercedes all other courts."
8. ON SAYING WITH DEEPEST CONVICTION
"A 'No' uttered from the deepest conviction is better than a 'Yes' merely uttered to please, or worse, to avoid trouble."
9. ON GETTING HURT
"Nobody can hurt me without my permission."
10. ON BECOMING BIG
"A man is but the product of his thoughts what he thinks, he becomes."
What's your favorite quote from the Mahatma? Comment below and let us know.