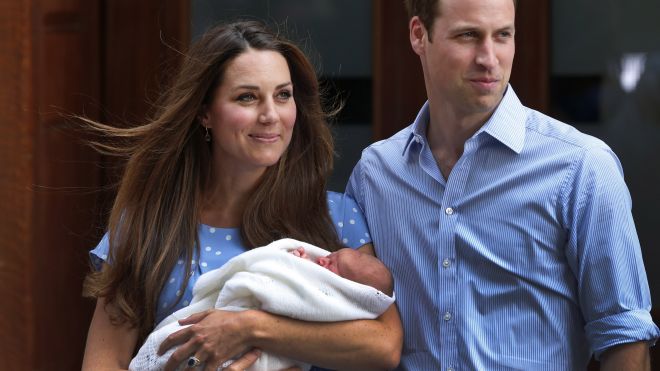 The World gets its first glimpse of William and Kate's newborn baby boy on the steps of St. Mary's Hospital in London on Tuesday, 23rd July 2013.
Twitter went crazy with over 2 Million Mentions and during the peak time, 25,300 tweets were sent per minute. This is how the world welcomed the Prince of Cambridge. Royal Baby's pretty pictures are all over the web now.
However, every pretty child requires a vitally alive mother. It is a man's responsibility to ensure the keep the 'expecting mother' happy. It's time to go beyond the flowers and the candy and use a little etiquette and common sense.
Here are the few tips from the Workout Trends
1. Give her water
Pregnant women are thirsty and require water every now and then. Make sure that she has water. Water in the form of juice & even milk shake can be wonderful for the 'expecting mother'. Thirsty Pregnant Women tend to show irritation and frustrated behavior. Water nourishes body and reduces this tendency.
2. Be gentle & patient
She's got lots of hormonal changes going on inside her and its natural that she could be acting a little funny and she might not be realizing the same at that time. But she is still the sweetest lady she ever was. Therefore, you need to be gentle, not get angry and show some patience with her. It will calm her down.
3. Keep things tidy & spacious around her
Tension and anticipation of the baby's arrival and mystery around the labor process can be stressful. Chaos around her will only increase her tension. Keeping things tidy and spacious around her will keep her stress low and she'll feel confident about you that you will able to handle things around when the time comes.
4. Brush up your cooking & dining skills
You can always do more for the mom and baby. Learn to get better at your cooking and dinning skills. Keep things clean around her and prepare good food for her. She will love it.  Doing the small household chores properly will make her feel comfortable around you and she will feel relaxed.
5. Keep the TV remote close to her
Make a bowl of popcorn, when your wife settles down for her favorite TV show or movie. Surprise her with your thoughtfulness and keep her a bunch of great movie DVDs ready and the TV remote close to her.
Let her eat high calorie food like Chocolates, Cookies & Doughnuts. It will prepare for the hard labor process of birth ahead. She will love the chocolate especially right after pregnancy and will keep her happy.
7. Help her prepare
Talk to her about her the ideal birth whether at hospital or at home or a birth center. Talk to her about her fears and address them. Also, make sure that all supplies for birth are in order as she approaches closer to the due time.
8. Make her feel special
Life might be stressful for her right now. Make her feel special. Make her feel loved. Find things to compliment her. Take care of her appearance as well as yours. Give her a bunch of flowers and a tender kiss everyday. A sensual massage or even a foot rub will her feel special.
9. Book Prenatal Yoga classes
Pregnancy can be the most challenging yet the most blissful phase in life of any woman. You feel almost every kind of emotions running you over one by one, or sometimes, they all attack at once. Unlike other childbirth-preparation classes, Prenatal yoga is a multidimensional approach that'll help her stretch her body, with focused breathing and thereby calming her mind. Read in full length about Prenatal Yoga here: Prenatal Yoga – Yoga For Blissful Pregnancy
Let us know if you have some more great tips to add to the list.
More on Pregnancy: