Sometimes, getting fit can get boring and frustrating. We tend to get demotivated. Sometimes, we wish we had a coach to guide us or kick our asses when we give up.
At times, we feel none of our friends understand what we are going through, and wish we had someone as our companion in the journey. Those who are determined to get fit, miss a competitor to push their daily limits.
In the age of technology, no one is alone. All you need is a smartphone and an amazing fitness app to do it all for you.
Here is a compiled list of the 11 most wonderful fitness apps to help you track your progress and keep you motivated. Download, and get it going.
Platform: iOS, Android, Windows, Blackberry
Price: Free
USP: Automatic sync to wireless devices
Sync the app with any of the three – wrist mounted Flex, pocket friendly Zip or clip on One and watch the magic. It lets you track food and exercise with sensitive measures like BMI and body fat percentage for a dynamic plan with customized diet. Not only that, the app does all this in real time.
Platform: iOS, Android, Web
Price: Free
USP: Tracks both eating and exercise habits
After you enter your basic details, you are given a daily calorie budget. If you wanna eat something, calories add up and the only way to make them normal again is by adding a requisite workout. Other features include bar code scanner, recipe builder, social sharing and exercise planning guides.
Platform: iOS, Android, Windows, Web
Price: Free, special features for $5.99 per month
USP: Smooth interface and rich database
The app asks you to enter age, gender, activity level, and how much weight you want to lose. With that info, it comes up with a calorie goal to help you reach your target. After that, all you need to do is log in every detail of your diet and activity everyday. With GPS, it tracks down distance you mapped and other important statistics.
Platform: Android, iOS, Blackberry, Windows, Web
Price: Free
USP: Community based all-in-one calorie counter and exercise tracker
Just enter in what you ate and the app counts the calories. Just enter in your fitness goal, and with each intake and workout, the app will let you know what outcome will you reach if you continue this way. An expansive databse, nutritional value and active online community support. That's My Fitness Pal.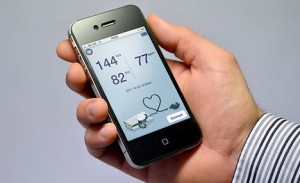 Platform: iOS
Price: $4.99 for PRO subscription
USP: Complete app for joggers, runners and bicyclists
It can track your gentle jogs to 5k runs to even bicycle ride. With PRO subscription you get enticing features like ability to start and stop recording a run using your iPhone's earphone controller, automatic exclusion of stop times (for red lights, etc.), and support for iCloud. Other expected basics like audio coaching, maps, graphs, splits, intervals, laps, and training plans are also included.
Platform: iOS, Android
Price: Free
USP: In pocket Doctor and Pharmacist
When you workout, you face injuries. Not every time are we able to find a doctor. The app comes in handy at those times. With pictorial representation of symptoms, explanation, causes, treatment and potential conditions. It has a great database of drugs and supplements so you can identify medicine just by looking at it.
Platform: iOS, Android
Price: Free
USP: Well executed and slick interface
You register your current fitness level and where you wanna reach. Rest the app does. Of course you'll need to workout. The app filters through its database and presents you the best matches for your journey. Video demos, step-by-step guide and bonuses on completion.
Platform: iOS, Android
Price: $1.99
USP: Exercise diary and personal trainer combined
Boasting an extensive workout database of 1,700 exercises and 1,000 videos, this app is essentially for home gymmers. The exercises are sorted by muscle group, and lets you log in details of your sessions. This enables it to remind you, how much exercise you need today.
Platform: iOS, Android
Price: $3.99
USP: Fun zombie apocalypse audio incorporated with running
Barely a few minutes after you start running, you'll hear zombies chasing you. Packed with ultimate sound effects and action packed narration, you sprint for your life. A must for those who miss TV or video games while working out and struggle for motivation.
Platform: iOS, Android
Price: $6.99, Free one month trial
USP: Live personal trainer streaming
Design your own fitness plan, post live updates on social networks, track progress or print pdfs. This app does it all. With over 750 workouts, 5600 workout images, you even have a choice of creating and sharing your own unique routine.
Platform: iOS, Android, Web
Price: $4.99
USP: Hidden details about food products
Scan the bar code of items at the grocery store before making the final purchase and get full nutritional details. Not only those mentioned on the package but hidden ingredients like added sugars, trans fat and people reviews.