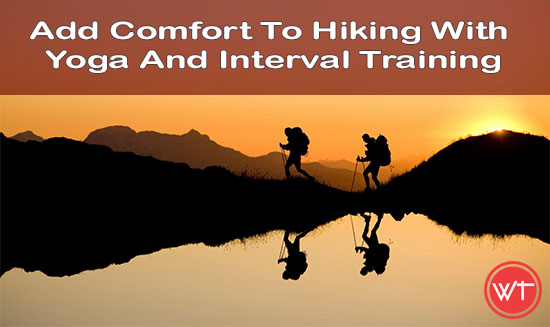 Walking is the primary activity we do as humans. No wonder why so many people find hiking amusing as well as healthy. But, many of us refrain from it, or might just go for shorter hikes for the sole reason of fatigue and breathlessness. Some even complain about knee and back pains.
Now, I don't believe one must detract enjoyment for this. Instead one should step up to the challenge, and work towards a fitter self, so you have more time for yourself, and chilling out.
With the advance of hiking season, we bring you tips and tricks to make your next hike more memorable and enjoyable. Go grab your hiking backpack!!
How Yoga helps in Hiking?
There is a reason why hiking and yoga retreats are so in business. They form an attractive couple. A cleansing vacation. A great workout along with the breathtaking views.
Apart from these, speed is a very important factor in hiking. No one wants to be left behind. The best thing you can do to improve your speed is, get in "Interval Training."
Interval training will help you hike better in ways you cannot even imagine. During hiking, the terrain is sometimes favorable, while sometimes it can get really testing. So,….
How Interval Training helps in Hiking?
Interval training makes you work near to your Anaerobic Threshold (AT). As a result, not only your lungs, but your muscle get used to the pattern of stress hiking involves. Your endurance levels will be elevated. You'll be out of breath. As a result, you hike better with every muscle cooperating, in every way.
However, one must never begin interval training without prior guidance, and also should never do it more than twice a week. You can begin with Aqua jogging intervals, and advance to treadmill, so you do not cramp your muscles.
Interval training during running: Run hard for 3 minutes (run like you are under zombie attack), and then take an active rest for another 3 minutes (brisk walk). Do 5 such reps each day.
Interval training on stairs: Stairs are best when it come to practicing for a hike. Climb up two stairs at a time, and descend slow to perfect posture. Next time, keep it alternate: two steps left, two steps right then one step left and right, and repeat it five times.
High Intensity Interval Training: You can make your workout even more intense (This is for those who always strive for perfection) by incorporating a HIIT session every week.
You can also go for Interval Yoga which is supposedly a fantastic cross between Interval Training and traditional Yoga.
So, what does your hiking checklist include now?! Let us know.
Last Updated: May 26, 2014
Next Scheduled Update: Jul 26, 2014