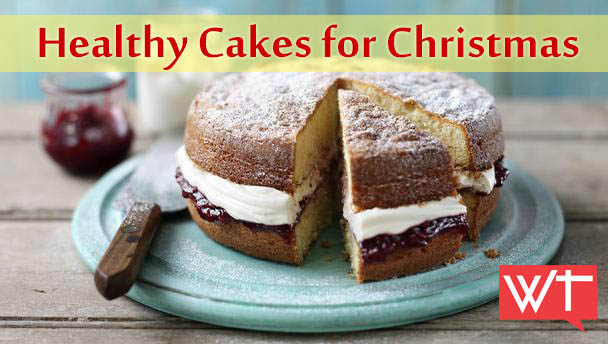 Its Christmas. Season's greetings pouring in and so are unhealthy pounds :D. Many say, cakes go well with Christmas, but not really with health. You're sure not to believe if I say health can be guaranteed with cakes. Apparently, the words cake and health barely complement each other. But to alter the notion, here's a toothsome variety of healthy cake delicacies to give you a healthy punch. Yes its gluten as well as guilty free. It will only show up on your taste buds and not on your hips. No hefty flabs. Nothing.
All you got to do is, sit back because in the moments to appear, you shall be foreseeing the healthy Christmas you'd be celebrating with your loved ones.
1. Applesauce All The Way:
Its apple singing the saga this Christmas. So its gonna be applesauce to grace your celebrations. Applesauce which is a smarter substitution to the oil used in baking can keep you from gaining those extra kilos. Applesauce is also an inexpensive ingredient which can be easily made at any corner of your kitchen. Cut down the sugar or fat content of your cakes by being friends with applesauce.
While replacing applesauce for sugar, do it in a 1:1 ratio. While you do so, cut down the amount of milk, water or any other liquid added to the cake by 1/4th for every cup of applesauce added.
If you're biased for anything sweet, you have the option of cutting down on the fat content. Replace half the oil or butter to be used with applesauce.
2. Healthy Cherry-On-Cake:
Fruits are naturally sweet. Replacing them for high calorie frosting plays the trick for you. You can mix and match fruits with some whipped toppings. Within no time, you'd be ready with a tooth sweetening healthy cake. To support, there are examples like, strawberries pair awesome with Vanila or chocolate cakes. Pineapples crushed over whipped cream team up so well. It gets hard for you to resist.
There's a lot more ways you can top up your cake with. Ever tried coconut whipped cream or meringue. How could I skip dark chocolate. Yes, the anti-oxidant one 😉
And then there are walnuts, almonds that can be crushed down or used as it is to top your cake and accompany the cheery-on-top-of-your-cake.
3. Go Fit Not "Fat"
If A – for Applesauce is your first preference, B – for Banana in a mashed form shouldn't miss to be the second alternative. One Cup of mashed banana owes the potential of replacing an equal quantity of oil or butter.
If you find yourself drooling over, by the mere sight of a chocolate cake, try pureeing 3/4th cup of prunes with 1/4th cup boiling water. This is another awesome substitution to butter.
You're going to thank me for trivializing the upcoming tip. Canola oil can be replaced for butter in cakes. It is familiar for its lower fat and calorie content. It is also enriched with a bearable extent of monosaturated fats, which a good combatants of bad cholesterol.
Its the holiday season, keep it fun filled with a mouth full of health. Eat to the extent of staying fit, if not as a fiddle.
Tweeting and commenting welcomed as much as they are appreciated 🙂