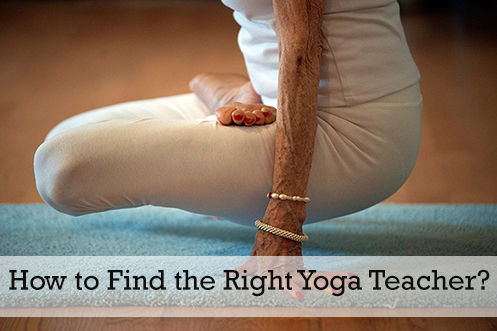 From my last write-up, "Yoga Lingo For Dummies" I suppose you have a fairly good idea about Yoga and its various styles and are now probably looking for ways to find the right yoga teacher for your needs (Honestly, learning about yoga was like a tail of buffalo, you still have a ton of black animal waiting for you). Don't be scared, it's not as tough as it seems. But first you need to do is figure out the reason behind joining yoga – Is it for relaxation? For faster recovery from injury? For weight management? or  for a fit lifestyle?[1] Once you've done that, you have shortlisted a few styles for yourself. Now, bring in the teacher.
Look Around
Begin your preliminary search by flipping through yellow pages or your local search engine. Ask your trusted network of friends, relatives, colleagues. You'll certainly get some leads here, next you follow them! With that, I mean be prepared for disappointment, because you need to find a teacher who really speaks to you. There'll be a point, where you'll think of giving up but, don't just quit. Yoga is about learning to open up, to possibilities and the moment you decided to take it up, you opened yourself [2]. Trial and error is the best way. If nothing works out, try yoga conferences.
Take out the Mat
A lot of centers offer demo or free sessions. Don't just attend but exploit such opportunities. Attend a few classes. You may find yourself conscious of your postures and angles, because chances are you'll be joining an on-going class, which straightaway implies, others will be more experienced than you. (Exploit!) Use their experience to your advantage.
Get to know about the teacher from students. Hear stories of their time there. Find about experiences of teacher.
Regular contact with teacher is essential. Experienced teachers usually have a large size of class while novice, who have smaller batches, will be a little rough around the edges. Its a trade-off basically. Although, smaller batches are better as you have opportunities for getting individual attention and the teacher can even help you customize postures according to your body abilities and limitations (which is obviously a plus).
Some Must Ask questions
Is the program an RYS or the teacher RYT? (Registered Yoga School or Registered Yoga Teacher)
What is the predominant style being followed? Is it slow, fast, physically taxing or relaxing?
How much time would one be required to devote weekly?
Does the teacher feels like approachable?
Would you always be taught by one teacher or they gonna rotate according to a schedule?
Some Must Have qualities
Ability to keep yoga and religion aloof: There are a few yoga instructors who'd take on the robe of Hinduism to package themselves as an authority rather than showcasing it through their practice. Yoga predates Hinduism, its not a religion nor a cult. It doesn't adheres to any beliefs, neither does it differentiate among beings. So, Dearie! Don't be deceived by the appearances, always know, yoga unfolds and changes you from within!
Any yoga class includes meditation and chanting of mantras in Sanskrit for deep relaxation. And hence, your teacher needs not only to have a rich scriptural background but a way with teaching them. Sanskrit, being the oldest language and a non-native, may test your dedication levels to the point of feeling like crap. No compromise here!
A quality would brush off as not-so-important is the Voice of teacher. You'll be spending a good amount of time listening to instructions from the teacher, so you need to understand every word they say. If you are making an effort to figure out the language, SKIP that class by all means.
Feelings are IMPORTANT
People who practice yoga are usually more grounded, content and just happy. You took a session. Do you feel anything near that? Does the teacher seem like that? Did you feel inspired? YES? Consider that class.
Were you left frustrated? Did you yell at your family after coming back? YES? I feel, you move on to next class on list.
I once attended a session where, the teacher humiliated a student publicly to an extent that she literally broke into tears, and was asked to Suck it up and THAT was the alert bell for me. I mean he preached values like non-violence, tolerance, compassion and truthfulness but that outburst spoke nothing of things like self-control. All I could do in rest of the class was wonder, what he might have learnt in his years of yoga, and what he could actually teach us. So people, Integrity is the keyword here. Double check on that!
Kahshanna Evans, a PR consultant, was mentored by many yoga teachers, and in her interview she revealed how many of the those were not appreciative of her personality: "If you stumble upon a Yoga teacher who has turned the practice into an Olympic competitive sport, kindly remember 2 things:
Although it may be impressive this is not Yoga, and
Find a Yoga teacher who feels like a right fit
Breathe wherever you go, whenever you remember; that is Yoga."
(Read her full interview here: On Importance of Right Yoga Teacher)
Yoga is not just physical postures or breathing exercise, its a tradition of discipline and basic human ethics. An ethical Yoga teacher conducts classes in a responsible, safe, and aware manner.
Don't be disheartened, don't let series of disappointments bring you down, don't settle for anything second to best, keep trying. You'll eventually find a kind, generous, honest and mature teacher who'll effortlessly inspire you to be a better human being. And be open to change and redirecting.
Final Step Towards Change
As I mentioned earlier, size of class is important and so is the length and cost of class (You don't wanna be late for office, neither do you want yoga to burn a hole in your pocket). Also, approach of school towards yoga is essential. Even if you don't know a thing about their style and can't even speak terms like Iyenger and Ashtanga, ask them questions. Get to know if the style is suitable for beginners and how it'll uplift you. There are classes which are notoriously vigorous like that of Bikram Yoga and ones easy breezy like Hatha yoga. In no circumstance, don't forget to inquire about recommended dress, provision of mat, medical facilities, etc.
What NOT to Expect in Your Class
Miracles after first class!
Give yoga a fair chance. Keep up faith. Your effort and patience will eventually be paid off in great proportions.
A final note: These tips are essentially for someone who wants to practice yoga for fitness, not for teaching it formally in future.
You have knowledge of yoga. You have a perfect teacher after reading this article. Now what all you need? Have some meditation to call your soul.
Suggested Reads
1. On Importance of Right Yoga Teacher – Interview With Kahshanna Evans
2. How Do I Get Toned Fast and Easy?
3. Pranayama – The Beginner's Guide
References:

[1] Yogendra J. Beneficial effects of yoga lifestyle on reversibility of ischaemic heart disease: caring heart project of International Board of Yoga. J Assoc Physicians India. 2004 Apr;52:283-9. PMID: 15636328. ^Back to Top^

[2] Smith JA, Greer T, Sheets T, Watson S. Is there more to yoga than exercise? Altern Ther Health Med. 2011 May-Jun;17(3):22-9. PMID: 22164809. ^Back to Top^
Last Updated: May 8, 2014
Next Scheduled Update: July 8,2014