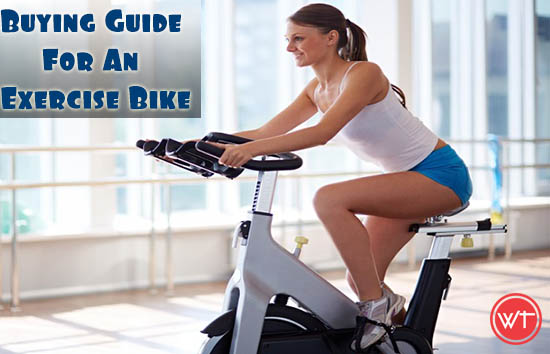 An exercise bike gives you a fun yet calorie busting and fat burning cardio workout at the leisure of your home. Not only can perform a light workout, but use it for a much harder interval training sessions too. So, its highly essential that you buy an exercise bike that can satisfy all your workout needs.
What is an exercise bike?
Exercise or stationary bike is exercise equipment that allows you to bicycle indoors, while staying in one place. Exercise bikes come in manual and electric versions. Manual versions are mostly used in spinning classes, while electric versions have detailed exercise display information.
Why exercise bike???
Exercise bikes work your legs, heart and lungs without putting impact or stress on your joints. They have always been very popular pieces of cardiovascular equipment because the exercise motion is very familiar to most people; you simply pedal as you would on a regular bike. You can set your own pace, and even read while exercising.
Types of Bikes
Upright Bikes
Recumbent, Semi-Recumbent Bikes
Dual Action Bikes
The real beauty of an exercise bike is the fact that you can use it almost anywhere. Whether you're in front of the TV, listening to music, reading a book or watching over the kids, an exercise bike allows you to squeeze in an effective home workout. Of course, since exercise bikes are so popular, there are a lot of them to choose from, which can make selecting the right model for you a difficult task.
What should I look for in buying an exercise bike?
1. Space
Space is important to consider. An exercise bike can be as long as 63" and as wide as 24".
2. User
What kind of cyclist are you? If you ride outside in the warmer months are you looking for an indoors alternative or do you want an exercise bike for all your cardio workouts? If you are an outdoors cyclist, consider a spinning bike, it is a stationary version of a road bike and is more like what you are used to riding. If you prefer to ride indoors an electric bike is a better option for you.
3. Price
Price is the top consideration when buying an exercise bike. You get what you pay for with exercise bikes — the best bikes are better engineered with more features. A good entry-level bike will cost you around $200. Mid-range bikes run from $300 to $600, and top of the line machines are $600 or more.
4. Construction
The seat of the exercise cycle should be comfortable and easily adjustable. In the case of recumbent exercise cycles, it should also provide solid back support. Similarly, the frame should feel sturdy and the handlebars should be easily adjustable.
5. Comfort
You should insist on buying an exercise bike that is comfortable, regardless of the price range. The two basic styles are recumbent and upright. Recumbent bikes, which have a chair-like seat to sit in while you peddle, are generally more comfortable for most people. But upright bikes, with a traditional bicycle seat, can be best for more strenuous workouts when you want to stand up on the paddles for maximum effort.
6. Maintenance
You'll also want to factor in the cost of extras and maintenance of an exercise bike. For example, you may need a rubber mat to protect your flooring and make it easier to clean up after a strenuous workout. Once your equipment has been up and running for a while, you'll likely also need to consider purchasing lubricants and cleaners to prolong the life of your exercise bike, and keep your exercise sessions running smoothly.
7. Resistance
Direct Tension – offers manual adjustment of resistance
Fly wheels – similar to a regular bicycle peddling motion
Air – resistance is achieved by peddling against the flow of air from a fan blade
Magnetic Frictionless Resistance – the most sophisticated type of resistance, allows for more variation in level of workout
8. Feedback mechanisms
Most exercise bikes provide information on speed, distance travelled, and time of the workout
The more advanced bikes today can include any or all of the following readouts:
Speed, Time and Distance
Total Calories and Fat Burned
Program Mode and Resistance Level
Pulse, Heart Rate, and Work Level
RPM, Watts, METS, Minutes Per Mile, MPH/KPH
More sophisticated models also offer pre-programmed workouts and information storage