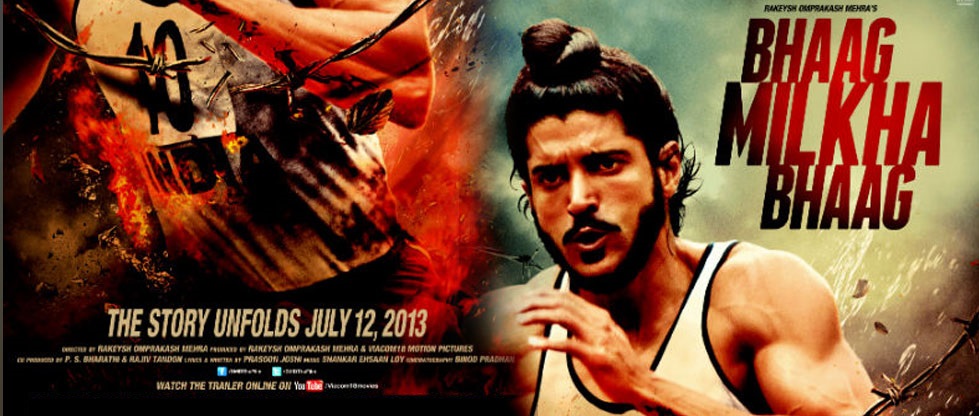 The movie "
Bhaag Milkha Bhaag
" is creating a lot of buzz in the Indian Cinema. As the year's most awaited movie is finally going to be put on the theatres, the Indian's are booking their tickets to enjoy it on
Bhaag Milkha Bhaag Release Date
of 12
th
July 2013.
Bhaag Milkha Bhaag Movie Trailers
are getting high views everyday on
Youtube
. Before we enter into what
Milkha Singh
was and what
Bhaag Milkha Bhaag
is all about, many of you must have been impressed by the physique that
Farhan Akhtar
has made for this movie. The movie is about our very own
Flying Sikh – Milkha Singh
and his life as a sportsperson. The director
Rakeysh Omprakash Mehra
has many hopes with this film as
Farhan Akhtar's stardom
has made the movie enter the news months before its release. Well the movie's title has a quite interesting story behind. Milkha's father's last words to him were "
Bhaag Milkha Bhaag
" asking him to run away and save his life during the partition massacre where his parents lost their lives.
The Illustrious Career of the Flying Sikh
Summer Olympics of 1960 is golden in Indian Sports History. He clocked 45.60 seconds and won 4th position in the 400m race. He made a mark in Commonwealth Games and registered first ever medal by free India after 1947. His achievement in Pakistan made him earn the name of Flying Sikh. Sardar Milkha Singh is the man with golden feet for India. He missed out on medals on many occasions but made to the hearts of all the Indian Sports Lovers. Milkha Singh has been a bit unlucky whenever it was about winning that shining medal. 80 races, 77 in his court but still no medal! But his achievements are enough to inspire the Indian athletes who still strive hard to make their presence on the international stage.
Milkha Singh – A Man with a Big Heart
A simple man with thoughts that make him a respectable person, Milkha Singh has never backed off from making any sacrifice for the Indian Sports. However, India has never given him the respect he deserves. In a country where there are not many role models for the youngsters, India has treated our athletes in an undeserving manner. But Milkha believes that he has got all what he deserved- People's love, respect worldwide and the recognition. "They take my autograph. I am a known face to them. It's an honor for me" says the Flying Sikh. Born in Pakistan, Milkha Singh lost his parents during the partition. He wanted to join defense forces, army basically but faced rejection every time. He later joined the mechanical engineering branch of the army and discovered his talent in sprinting.
A Champion in himself
Backed by a strong determination to be the best in the nation, he underwent a tough training, intense enough to make him vomit blood. But his sheer hard work and high physical preparedness workouts paid off when he got a chance to represent India in the Melbourne Olympics and later on making it to 4th in the Summer Olympics of 1964. Milkha's career as a sprinter has been way too shaky. But he won hearts of people all over the world. He got off to a career in sprinting in 1956 with his first appearance in Melbourne Olympics but could not make his name big enough. He made his presence when he won his first medal in Asian games winning medal in 200m and 400m events. The career he wished begun but an Olympic Medal was always his dream. Another feather added to his achievement when he won Gold Medal in CommonWealth Games of Cardiff in 1958. He won races in Pakistan that made him earn the title of "Flying Sikh". But his luck never favored him when he finished 4th in his last Olympics.
The Old Runner
The old man in his late starts his day from a jog at the famous Sukhna Lake at Chandigarh. Golf has been the new interest he has developed. He is the proud father of the India's Best Golfer Jeev Milkha Singh. He hopes Jeev will fulfill his dream of a medal in the Olympics, a wish he himself could never fulfill. The Golden Man has always been attracted to the army. Last year, he adopted the son of a martyr of Battle of Tiger Hill. He believes that people who have lost their lives for this nation deserve it. We should feel proud of them. Years have passed when his feet gave up on running. But the passion is still alive in his heart. We salute this great man for all he has done for the nation.
Go Watch This Flick in the Nearby Theatres. He is an inspiration to all sports & fitness lovers. The stats are below. Do let us know how did you feel watching the film at healthse facebook page.
Initial release in India: July 12, 2013 (India)
Director: Rakeysh Omprakash Mehra
Screenplay: Prasoon Joshi
Producer: Rakeysh Omprakash Mehra
Music composed by: Loy Mendonsa, Ehsaan Noorani, Shankar Mahadevan