Take a walk through any large city park on a sunny day and you're bound to find people bouncing around on tight ropes suspended between the trees. Easily mistaken for circus folk, practising their acts, they are in fact everyday people mastering the fun and addictive sport of slacklining. This impressive way to hang out of a weekend is fast becoming a popular choice for those conscious of keeping themselves in great shape, both physically and mentally. Unconvinced?
Then take a read of why slacking could be just what's required to give your health the boost it needs.
Walking the line
Standing on a slackline for the first time can be a very frustrating affair. The line will wobble uncontrollably beneath your feet. Even the idea of taking a step, without the support of a sturdy shoulder to lean on, is totally inconceivable.
However, muscle memory is a wonderful thing and within your first session walking the line, you'll be standing on it unassisted and ready to take your first steps. Here are a few tips on taking your first steps on a slackline:
Have a buddy help you up onto the line
Make sure that friend stands next to you the whole time, and use their open hand or shoulder as support
If the line is doing that wobble thing, then try to relax and not fight it. It will get better!
Don't look at your feet, but focus on the line a few feet in front of you
Keep your feet flat with one foot in front of the other, toes and heels firmly on the line
To take a step, take one foot off the line and get used to balancing all your weight on one leg
Use the toes of your free foot to feel the line and then put your whole foot down onto the line directly in front of the weight bearing foot
If you've not fallen off by now then do it again!
All about the core
During your first few sessions on a slackline, your leg and core muscles are guaranteed to get a good punishing just trying to stand on the line. Take a walk, and every muscle in your body will be working together to keep your body balanced and stable.
So, forget about crunches and ab workouts because slacklining really is an excellent way to work your deep core muscles using natural and functional movements. Additionally, many core exercises can put unnecessary strain on the lower back or neck muscles. So if you are struggling to improve your core strength without straining other areas of your body then this might just be what you are looking for.
To get the most out of your core when slacklining, try the following things:
Stay relaxed at your shoulders to prevent any tension
Actively engage your deep core muscles by gently pulling your belly button towards your spine (like in Pilates)
Keep your knees slightly bent so that they work with the movement of the line, and not against it
Breath deeply and slowly
Meditative stress relief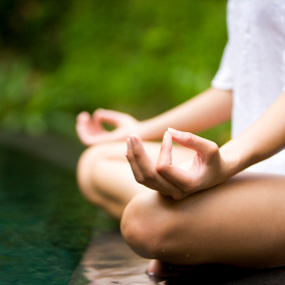 If you've managed to master the above, then it's likely you also managed to switch your brain off completely to concentrate on nothing more than staying balanced and not falling off, the perfect distraction technique! Take it a step further and actively work on slowing your breathing down. Maintain balance for a set number of breaths or steps, and draw your focus to nothing but the line in front of you.
You'll be amazed at the effects that just a few minutes of total focus can have on a cluttered and busy brain. For many slackers, their balancing pastime has become a form of mediation.They will seek out quiet corners to practise and switch off. So, if the idea of sitting in an empty room and making yourself think of nothing is a little unrealistic for you, then meditative slacklining may just be the perfect way for you to find your inner calm, but in a more active way.
Get sociable
Although by its nature a solo activity, slacklining can be a very sociable way to be physically fit, and we all know how great socialising is for our mental health too. Couple it with a picnic in the park, some chilled tunes and a cheeky drink or two, and you've set the scene for a fun evening of frolics with friends. But from a workout point of view, if it's a choice between hitting the gym and hanging out with your mates, then the latter usually wins by a mile.
So, next time you're about to ditch yet another gym session, hit the park with your buddies and a slackline to make a social out of strength training (just maybe omit the drinks, and whip up some revitalizing green smoothies instead!).
Other benefits of slacklining
Aside from the strengthening and meditative effects that come with slacklining, there are also a load more benefits that time on the line can have on our health and well-being. These include:
Improved balance
Sharpened focus
Better posture
Improved reflex control
More time in the outdoors
Once you've mastered walking, there is a myriad of directions slacklining can take you, from acrobatic trickery and high line thrills to slackline yoga. All of these, needless to say, require very high levels of physical strength and mental clarity.
Get out and start slacking
So if walking the line sounds like something that would complement your fitness and health regime, then why not give it a go? Getting started couldn't be easier. You can pick up a slackline for the cost of a couple of fitness classes, and once you've got it, who knows where it will take you? One thing's for sure – you'll have a great time trying it out, with an intensive workout for those grinning jaw muscles and laughing belly muscles – guaranteed!
Author Bio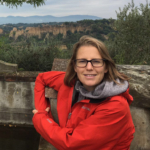 Joey Holmes is the editor of Cool of the Wild, an online resource for outdoor lovers. As an ex-personal trainer she loves being active in the outdoors, and has endless enthusiasm for any excuse to share this passion to inspire others to get outside, get active and explore more.