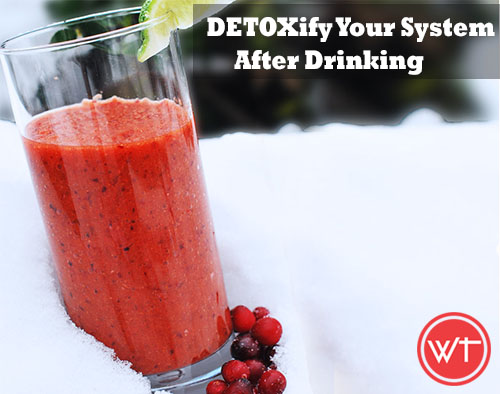 Q How to detoxify system after drinking alcohol?
A The symptoms of excess alcohol are half dehydration and half intoxication. Once the liver's ability to detoxify is exceeded, the body produces toxins from alcohol that trigger a headache. If you wake up with a thumping hangover, ensure you have a liter or two of pure water to hand — and drink it throughout the day. Have 5g ( 1 heaped teaspoon) of glutamine powder and supplement lg of vitamin C every two hours, and take a high-potency multivitamin and an anti-oxidant complex. Also, drink cat's claw tea along with fruit or vegetable juices. Try a combination of carrot and apple this will definitely speed up liver detoxification.[1]
References

[1] Potter AS, Foroudi S, Stamatikos A, Patil BS, Deyhim F. 

Drinking carrot juice increases total antioxidant status and decreases lipid peroxidation in adults

. Nutr J. 2011 Sep 24;10:96. doi: 10.1186/1475-2891-10-96. PubMed PMID: 21943297; PubMed Central PMCID: PMC3192732.